Commercial Automatic Overhead Door
One of our areas of specialty is Rolling Steel Doors (also know as Commercial Roll Up Doors). They are a metal slatted doors that roll up to store in coil above the opening.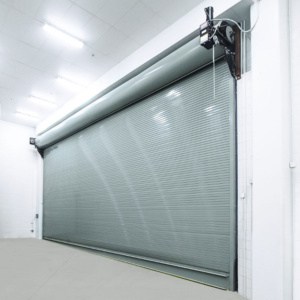 Bay Area Lions Gate has a rich history in the rolling steel industry and we continue to build upon that heritage with a full line of commercial rolling doors. From roll-up sheet doors for self-storage facilities to insulated rolling steel doors for warehouses we have a solution for any application.
Service Doors
Bay Area Lions Gate Rolling Doors have a long history of excellence in design and construction that often exceed our customers' expectations. With our experience and a number of innovations created over the years, we continue to lead all other manufacturers with both standard and custom-made doors from a variety of materials and colors to meet almost any need. Whether it's enormous Titan rolling doors, protective FireStar rolling steel fire doors, ventilated Secur-Vent doors, or secure upward coiling Counter Shutters, you can feel confident that you're getting the best possible solution for your building application needs.
Fire Doors
We install & repair Rolling Steel Fire Doors and Counter Shutters which provide a practical and innovative solution to safety and fire protection. This line of products feature a forward-thinking design that outperforms industry standard in all areas, including easy testing capability; smooth, quiet operation; and reliable, long-lasting performance.
Grilles
Bay Area Lions Gate has a rich history in the rolling steel industry and we continue to build upon that heritage with a full line of commercial rolling doors and security grilles. Our Rolling Grilles offer security, visibility, and ventilation in a number of patterns and finishes for commercial, industrial, retail and institutional applications.
Roll Up Sheet Doors
Bay Area Lions Gate Roll-Up Sheet Doors, Self-Storage Doors and Interior Hallway Systems are designed specifically to meet the unique demands of the self-storage industry. Our commercial and mini roll-up doors are available in a wide variety of sizes and colors, to complement virtually any building. Built for durability, these are ideal for new construction or retrofit applications.
At Bay Area Lions Gate, we understand that installing and maintaining overhead doors is a lot of stress. That means your commercial door service provider must be dependable. Our service has established a reputation for providing clients with what they need in record time. Contact us today to schedule a free consultation and estimate.

Yes, you can make changes to your design plan. We have always allowed our purchasers to customize our plans to meet their needs. However, all changes must be approved by us to ensure that they will meet site and structural requirements.
We do our best to keep your home accessible during driveway gate construction however there may be limitations when ground sensors are being installed but we will do our best to work around your schedule in order to limit any inconvenience.
If you have any designs or photos of automatic gate styles you like please have examples on hand. Nothing is required however as we can provide various samples of gates we have installed.