Commercial Automatic Swing Gate
Distinguish your commercial property with a sleek automatic swing gate. Swing gates will aid in securing and protecting your property. Our project managers will help you determine the perfect swing gate for your commercial needs.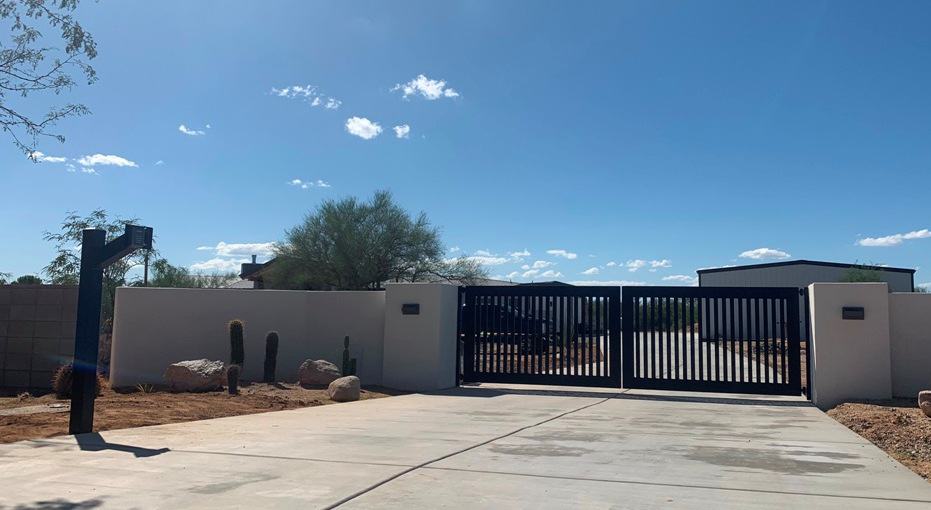 Commercial swing gates can help secure a property along with your perimeter fence. Which one to use is generally determined by the grade of the driveway as well as personal preference.

A chain link gate offers a utilitarian first impression of a safeguarded area. For an ornamental look, a gate made from aluminum or steel will make a more welcoming statement while providing the proper security.
From San Francisco to San Jose as well as east bay cities from Fremont to Oakland, our reputation for providing the right solutions for clients makes us the most trusted choice for Automatic gates.
Relax. Let us worry about your needs. Our team of experts is standing by to make your day. From installation to modernization as well as regular maintenance, consider it all done!
Swing automatic gates
With a swing gate, you can stylishly close your driveway. Many styles are possible: for example, you can opt for a classic wrought-iron swing gate, but there are also more modern variants. This type of gate can be turned inwards or outwards.
Swing gates are used to secure entryways that have a flat open space either behind or in front to accommodate the gate swinging in a wide half-circle. It can also provide an ornamental look while protecting the entrance.

Swing gates can be designed as a single or double drive gate, depending on your size requirements.

We know that workplace safety is a top priority. This is why Bay Area Lions Gate has implemented the UL325 & ASTM standards for gate and operator installation to ensure the safety of your employees and property. Learn more about automating our slide and swing gates at Gate Options, our gate operator division.

The best deal on automatic gates installation and maintenance
When looking for an automatic gate for your business, it is essential it checks all the right boxes. The quality of the materials used shouldn't just be of the highest quality, but it should possess an undeniable class which would improve the curb appeal of your business. Our automatic fences offering the best features available in the market today will do just that, and more.
We insist on gates made from industry-grade materials designed through excellent craftsmanship. Anything less won't do.
At Bay Area Lions Gate, we understand that installing and maintaining an automatic gate in peak condition is a lot of stress. That means your automatic gate service provider must be dependable. Our service has established a reputation for providing clients with what they need in record time. Our highly trained and qualified technicians will always reach your property at the stated time. Wielding the best technologies, we'll quickly get on with the task. In the end, expect to be delighted by the positive outcome you've always dreamed of.
The total cost for an automatic gate is determined by various factors, including the type of gate, the chosen material, the dimensions and degree of automation. For you to ensure you get the most value for your money's worth, it is best to call on our professionals. We will not only advise you on the most suitable option for your situation, but you can also count on correct installations and excellent service. Irrespective of your choice, you'll enjoy a transparent service and highly competitive rates. No hidden charges!
As your automatic gate installers, our customer support team is always ready to provide you with the needed assistance at any time of the day or night. No wonder property owners who have hired us have no regrets, but rather, they have been impressed with our comprehensive range of excellence-driven services.
Yes, you can make changes to your design plan. We have always allowed our purchasers to customize our plans to meet their needs. However, all changes must be approved by us to ensure that they will meet site and structural requirements.
We do our best to keep your business accessible during driveway gate construction however there may be limitations when ground sensors are being installed but we will do our best to work around your schedule in order to limit any inconvenience.
If you have any designs or photos of automatic gate styles you like please have examples on hand. Nothing is required however as we can provide various samples of gates we have installed.